Susan S: Daisy enjoyed her stay. Tara made sure she would settle right in. To Daisy it was a great vacation.
Daisy enjoyed her walks with our family.
Anneke C: Our elderly dog came home relaxed and clearly used to company. We are so grateful she was in good hands while we were out of the country.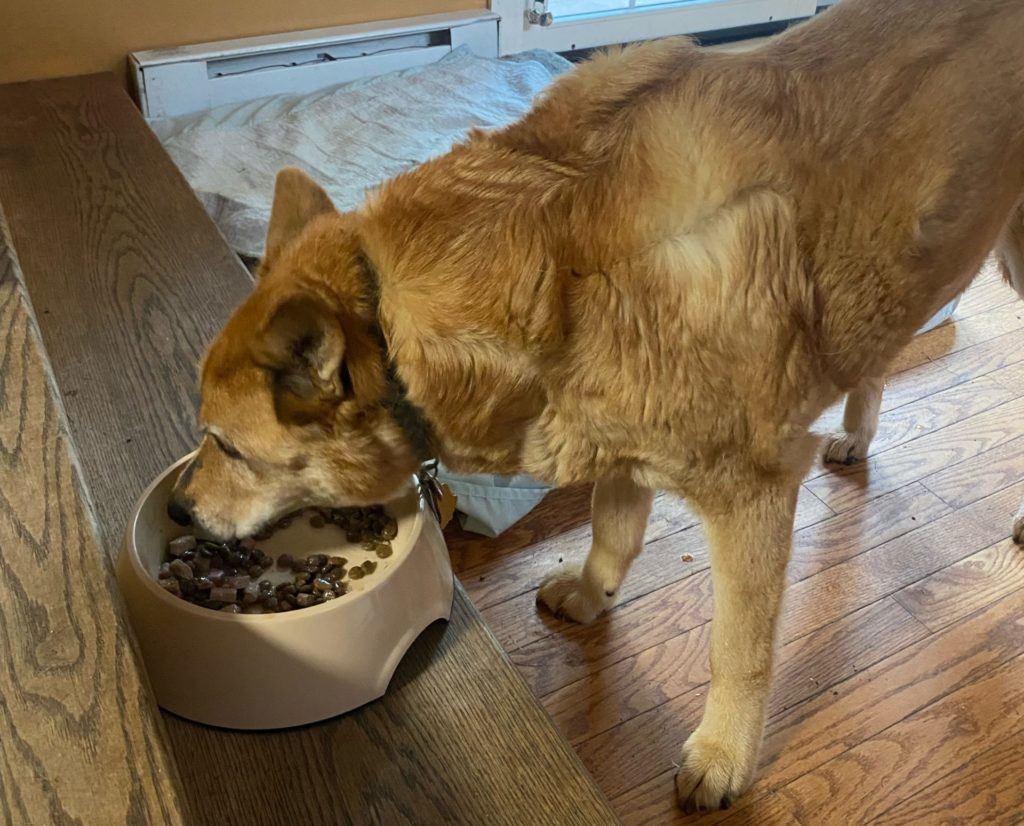 We made sure to accommodate Betsy as much as possible.
Kristen Belmonte: I first met Tara in the setting as a trainer for my 6 month old Great Dane. When I was leaving for vacation and discovered she boards dogs in her home, it was a no brainer to have her watch our dog. Tara went above and beyond when taking care of my Great Dane puppy! I received constant updates and photos and I knew he was being well taken care of. I was concerned he wouldn't want to come home after all the attention he was receiving! I would recommend Tara to anyone for training and boarding.
Loki and Matilda resting after tearing up the back yard together!
Agnes Donovan: So fortunate to have found Tara Altgilbers as a Trainer, she is awesome. My Frisky is an independent minded rescue. However, working with Tara has made him such a better behaved dog. At first I was worried I would not be able to keep Frisky. However, Tara taught commands, tone, and rewards that worked for Frisky and I. Tara works wonders both with the puppy who is learning commands and with calming, training, and advising the owner (me). I feel more confident and comfortable. Because of Tara, Frisky and I are bonding, learning and loving together.
Frisky boarding with us… Matilda and him had a blast playing together. They make a cute and pair!
Tracy Schuler: I use Tara all the time to board my elderly dog Quila. I knew using a kennel was not an option with Quila's anxiety. With Tara I get daily photo updates and it is as if Quila is part of their family! Their large fenced in yard is perfect for pup playtime with her friendly dog Matilda!
Quila in the yard enjoying some sunlight. If you look close you can see our goat behind her. 😉
Melanie Rubino: Tara, Ian and Aubrey at Sit, Stay & Obey have been the biggest blessing for my golden retriever. I've never felt so comfortable boarding my dog anywhere. This family has become my dog's second family. They are so calm and caring, responsible and kind. I know without question my dog is loved and safe here. Tara is also extremely knowledgeable about dog training! I truly don't know what we would do without their services. My dog runs right up to the door to go in and see his best friend Matilda, their Doberman pincher. He gets more exercise and love than I could ever imagine. I highly recommend boarding, daycare and training here!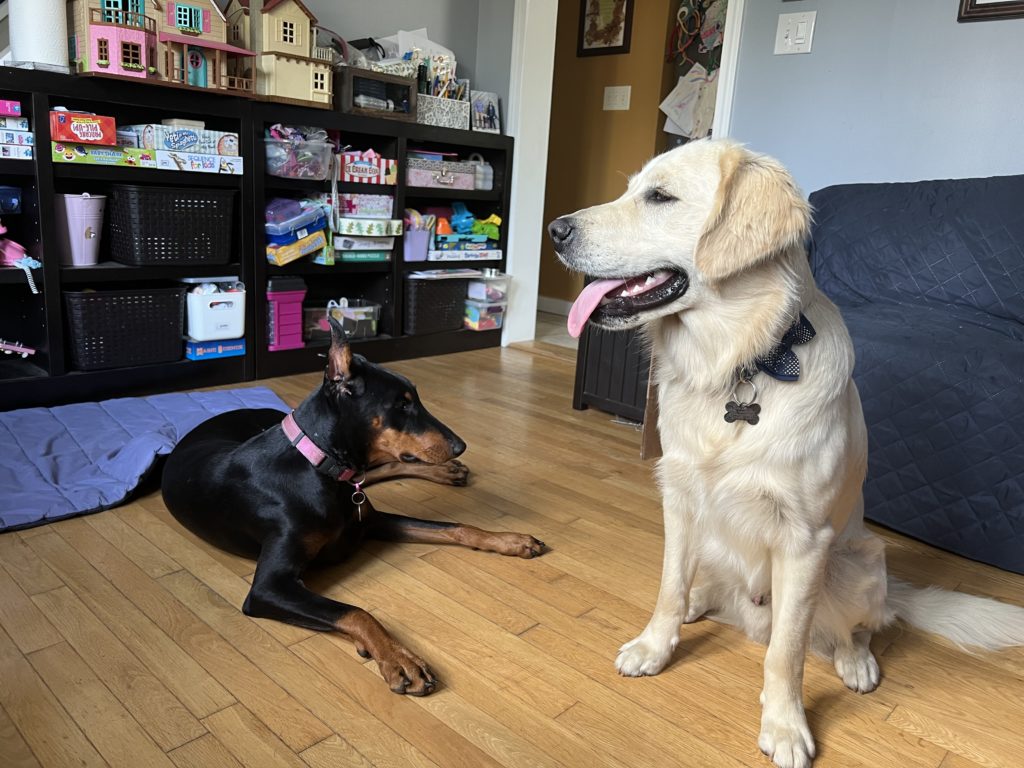 Winston and Matilda are sibling from another mother. They are the best of buds.
Marge McLaughlin: Tara worked with me and Pepper, my wonderful Brittany, to address a specific reactive to behavior problem. Tara is both patient and efficient, her communication skills (with both people and dogs!!) are so great, she explains what she's doing and why, she followed up each lesson with written guide and tips, she listens and observes, provides clear and specific instruction, both explaining and demonstrating, and importantly having me practice the steps so I knew what to do and how to go about it. Pepper and I can now be safe during our walks around our neighborhood and actually both enjoy them!! Highly Recommend Tara!!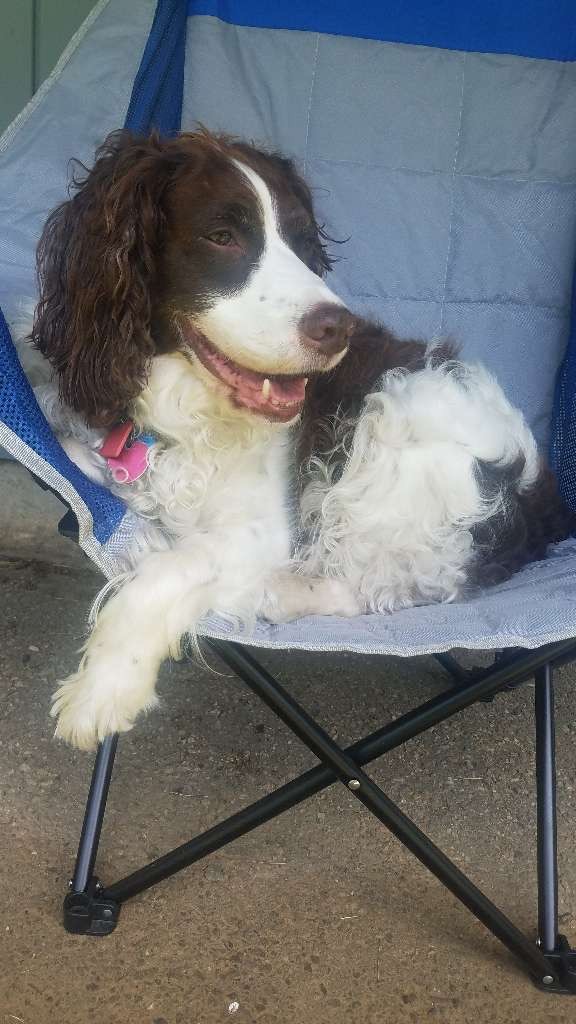 Pepper is such a sweet gal who unfortunately was reactive when she saw other dogs. With mom's dedication we got their walks to be a lot more enjoyable.
Mindy Pelletier: I had Tara and her husband take care of my dog for the day – he got the best care there, and I am very picky about that sort of thing. I got text updates on how he was doing, along with pictures – he was very happy, and loved playing with their very friendly dog. I felt very comfortable leaving him in their hands, and he's going back in a couple weeks, again, for them to take care of. So glad I found them! Follow up review: I am VERY picky (obsessive?) about who my Ollie stays with, and I use Sit/Stay almost exclusively. Ollie loves to go there, and he has the best time playing with their dog. I am sent pictures of how he doing there, and he always looks so happy! I would highly recommend them to anyone who needs someone to care for their dog.
Ollie walks by our house on a regular basis and tries to come in to visit his girlfriend Matilda!
Carol Peckins: Tara is terrific. She is friendly (to both dogs and people), and is clearly very enthusiastic about her work. Her approach is a marvelous combination of no-nonsense/matter of fact/practical and genuinely warm and accepting. Tara exudes confidence in what she is doing, so the client feels "oh yes, I guess this can be done!" Her long term experience comes through clearly in her calm belief that every problem has a solution. My trust in her is evident in my plan to have her come to my home again to help with a particular behavior issue–it is lovely for me to know that she is going to solve it.
Rachel Dasenbrock Knowlton: A wonderful home atmosphere. My dog is elderly, and smaller, but fit right in with the family atmosphere and their dog. I was worried about leaving her, it was an amazing experience, thanks to Sit, Stay and Obey!
In loving memory of Ginger. Aubrey loved this sweet adorable gal!
Mindy M: Tara is an amazing trainer. My Ollie was having challenges with pulling on the leash toward other dogs. Her techniques that she worked with us on in one personal training session was amazing. We now have tools that we need to have a fun, enjoyable walk without the pulling. Thanks Tara!!
Joy Kimball: Tara is a terrific trainer. She completely understands the dogs she trains and their owners. I adopted a 1 & 1/2 year old who, though very smart, had never been trained. We went to her group classes. He came with a few issues which Tara immediately identified and knew exactly how to fix. She uses positive not negative training which helped my new dog and I bond while learning. I absolutely recommend Tara as a trainer. She's the best!!!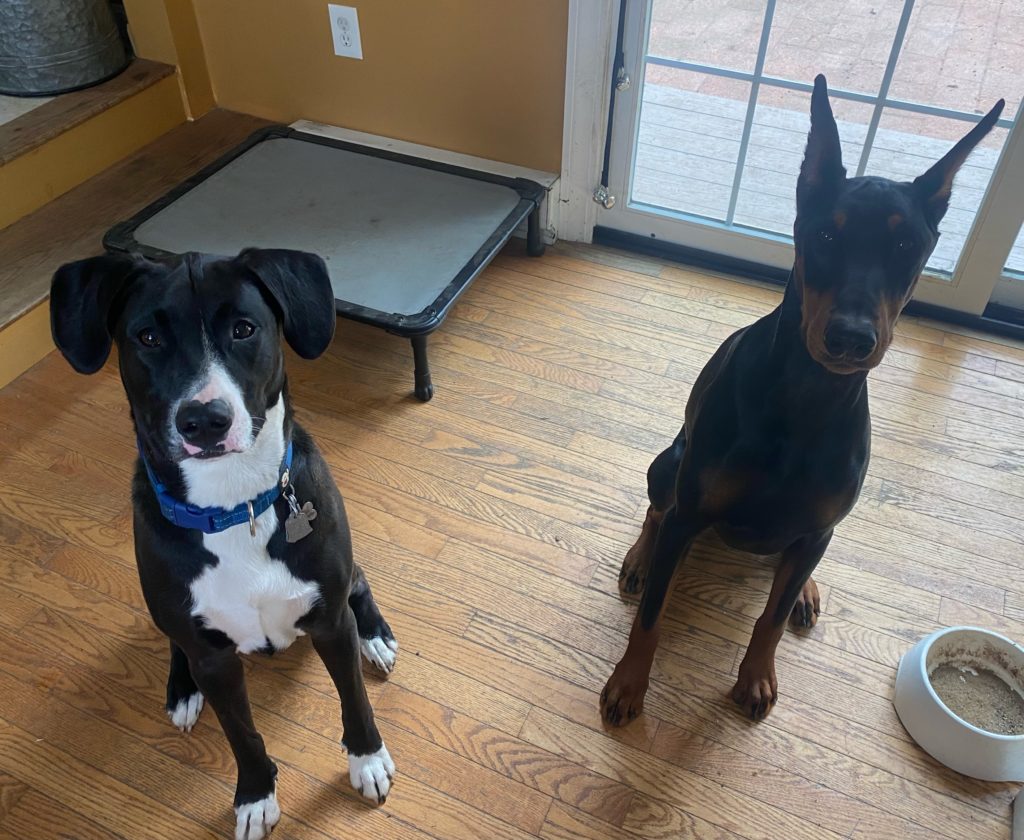 Mr. Rudy started off with training and has since then boarded at our house. These two had a blast running around the yard.
Mary Dean: Tara is patient, knowledgeable, caring and thorough. My dog started showing protective behavior and his anxiety was triggered by some dogs. We worked through this and he has improved markedly. A big thanks!!
Dianne Crawford: Positives: Professionalism, Quality, Reliability, Responsiveness, Value. This is my 6th puppy kindergarten class over many years and by far the best. The instructor, Tara, is knowledgeable about breeds, typical age related behavior issues and solutions, has effective methods to train all puppies, while making the class fun and rewarding. I highly recommend Tara!
Gene and Janet Sumner: Tara is an amazing trainer/instructor! From the time we rescued "Boo" we knew we would need help with him and his needs. He came to us with high anxiety and was very fearful of many things. With Tara being a veterinary technician at the veterinarian hospital we go to, we got to see her work with Boo first hand. She is kind, caring, and loving. She is also very knowledgeable in her field. We felt very comfortable signing Boo up for puppy classes with her. In the six sessions that we had with Tara, there has been remarkable progress with Boo… and we (Gene and I) have learned so much during this time. When we arrived for the first class, Boo was in flight mode. He had to be carried into class. He was terrified of his new surroundings and the other dogs in the class. Following Tara's guidance, by the end of the class he had stopped shaking and walked out on his own. The following week he walked into class all by himself and went right over to his seat… success!! Each consecutive week we learned new skills and commands to apply when training Boo. Each week we see the progress that is the result of these classes. Tara has a way with each puppy and gives each one the time they need individually as well as in the group. We could not be happier with Tara and how well she works with the puppies in the class and wee are so proud of Boo and the progress he has made. We will continue training Boo with Tara and definitely recommend her to others in need of a trainer for their dog.
Laura S: After doing group classes with Tara, we immediately saw how much better she was then previous trainers we used in the past. We are even doing a private lesson with Tara because she is such a good trainer.
Bonnie LeBlac: I couldn't have been happier with the training we received from Tara! Her class sizes were perfect, the content was exactly what we were looking for, and she simply was amazing! Another bonus was that I was allowed to bring my child with me (many places allow 1 person). Tara was very knowledgeable and attentive to both us and our dogs. If there was a question after class she never hesitated on staying to discuss. She also insisted that if during the week we had a question or issue to email her and she would get back to us. Her response was very quick. She clearly loves what she does and it shows! Highly recommend her!
Hollie Fumero: Took my puppy to obedience school and the trainer, Tara, was great! She was very informative and interactive. I would recommend her to anyone!
Kathy, John, and Katy: Tara, thank you for such a great experience! Georgie learned so much and so did we!

Christine Harrington: Tara is kind, skilled and clearly enjoys teaching dogs and their people to be their best. She made class fun and took time to focus on each puppy and its needs while keeping the pace of the class. She is a wonderful trainer whose kind and direct methods work. We looked forward to the weekly sessions where we had fun while building a solid foundation with our puppy.
Mary, Joe, and Rumford: We have known Tara for 12 years. We first met her when she was training through a major company. When she left to start her next adventure we followed her. She has trained our dogs through puppy, intermediate, and canine good citizenship. If you are looking for a patient, compassionate, and highly skilled trainer then we highly recommend Tara to train your dogs.
Victoria Fantasia: We took a 6 week puppy class with Tara and it was a great introduction to dog training. We were able to learn all of the basics while also getting to expose our puppy to a group of her peers. Tara was a wealth of knowledge beyond the classroom curriculum. We're looking forward to learning even more in the next level class!
Donna Lecuyer: My 1 year old Pomeranian has just finished obedience training with Tara. Before coming she was fearful of everything. I could not leave my house at all due to her fears. After going thru 6 weeks of obedience training, Cutey has changed 100% for the better. Tara has been very approachable with Cutey's problems and with her advice I have been able to use different methods of helping Cutey feel more comfortable and safe and she also listens better.I always thought obedience training was you working to learn words and gestures and doing the same thing over and over. Each week Tara would show us another aspect of training and we would work of that for a bit and at the end of class we were given written papers of what was taught. This allowed each owner to take their animal home and work with them so that the following week our dog was more understanding of the past concepts and could add on with the new task. Each week was a build on of the previous week. After 6 weeks and Tara's help, I can now leave my house for a short period of time without her going into a panic and howling. I highly recommend Tara as a trainer. This course has been well worth the money and the time.
Rachael N: I've worked with Tara as a vet tech for 3 years. She is one of the few people I would trust to care for my dog as I do. She understands animal behavior and is fantastic with my dog, an aggressive terrier, Skippy! She is reliable and loves every animal as her own. I highly recommend Tara as a pet caregiver.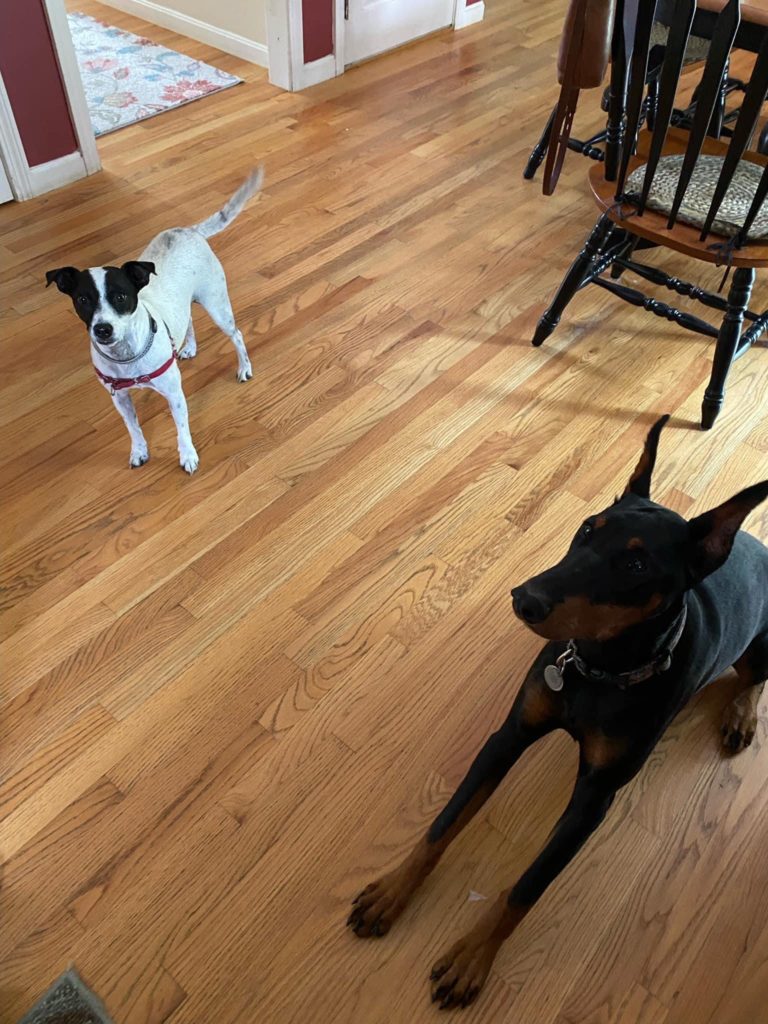 Skippy is dog reactive but Matilda has been very patient with him and they now hang out together!

Sarah R: Tara is a terrific instructor. Every owner/dog team improved substantially thanks to her enthusiastic, clear teaching.