All group classes are held at Ruff 'N Tumble located on 1755 Osgood Street, North Andover
Benefits of Group Classes:
Group classes are less expensive than private sessions.
Puppies are allowed to socialize with people and other puppies in a fun and safe environment.
Group classes provide more distractions for your dog to learn to overcome.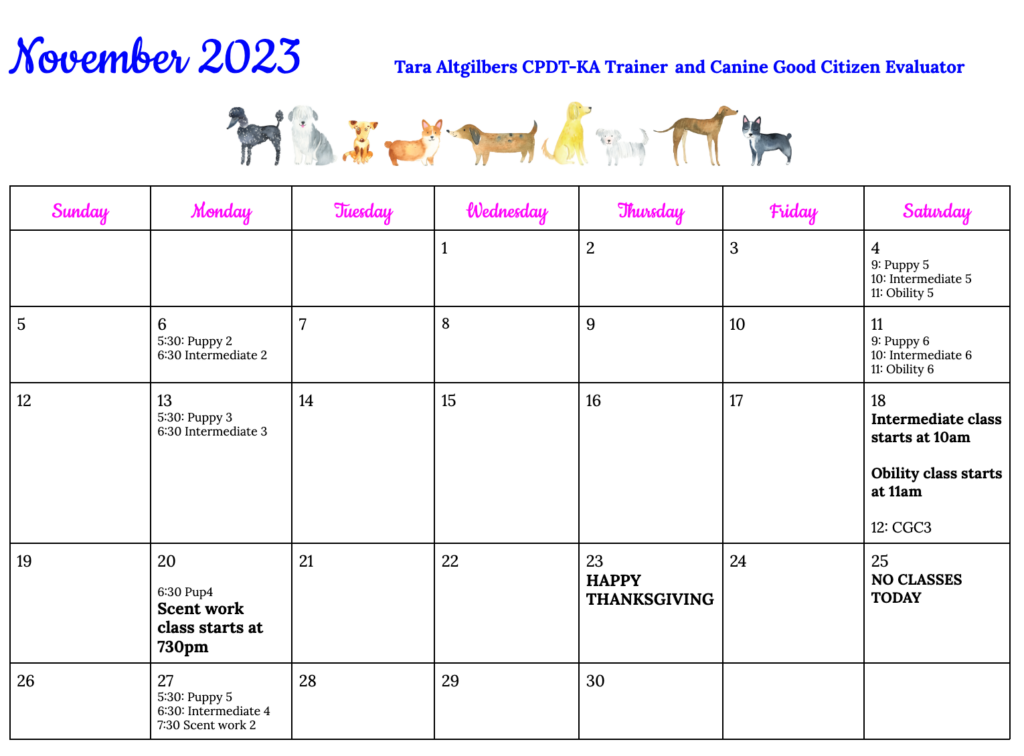 Class Information:
Once you decide what class is best for you and your dog fill out and submit the Class Registration & Waiver Form along with your payment.
Paying for the class you want ahead of time ensures you have a spot. Classes are non-refundable, but can be changed to start at later date. Click on the button below to reserve your spot today!
All classes meet the same day and time of the week for either 4 or 6 consecutive weeks.
You are allowed 1 make up class per session. If you are going to miss a class please let me know ahead of time.
Vaccinations: Puppies are required to have at least one Distemper vaccine. Dogs 6 months and older are required to have Rabies and Distemper. Bordetella (Kennel Cough) is highly recommended, but not required.
Classes require a minimum of 4 dogs to start.
What to bring to the first class: Your dog, proof of vaccines, a variety of treats, collar/harness and 4-6 foot leash. No retractable leashes are allowed.
Classes offered:
Puppy: For puppies 9 weeks and up to 6 months. This class helps families learn how to effectively communicate with their puppy, while addressing problem behaviors such as, potty training, nipping, chewing, barking, and jumping. Puppies learn commands: Sit, Look, Down, Stay, Come, Leave it, and Leash walking using positive reinforcement, which builds a positive relationship between puppies and owners. Your puppy will have the opportunity to play with other puppies while exposing them to new people and experiences. With proper socialization puppies are more likely to become confident, happy and healthy adults.
Adult: Designed for dogs 6 months to any age. This class is great for newly adopted dogs or dogs with little training experience. This class covers any problem behaviors you may have encountered along with all the basic commands listed above in the puppy class. Remember it is never too late to train your dog!
Intermediate: Works on your dog's impulse control by adding increased distraction and difficulty to basic commands such as sit, down, stay, and come, while teaching more complex commands heel, wait and settle. This class helps your dog become the well mannered individual that everyone strives for. Prerequisites: Puppy or Adult or basic knowledge of commands sit, down, stay and come.
Obility: Cross between agility and obedience training. This fun and interactive class helps build trust between you and your dog. Your dog will continue to work on manners, while learning to heel, stay and come with distractions, run through tunnels, go over jumps/obstacles and negotiate a dog walk. Introducing your dog to agility obstacles has been proven to build confidence in dogs. Prerequisites: Puppy or Adult or basic knowledge of commands sit, down, stay and come.
Rally Obedience: 4 week class that fosters a closer bond by working and competing with your dog. Rally-O is a fun and exciting activity that builds a working relationship between dog and handler as they work together navigating around a course of designated stations in the heel position. The course consists of ten to twenty signs that instruct the owner on what commands need to be executed. Teaching your dog to walk behind you, take right and left turns, or drop into a down while you keep moving forward, are just naming a few of the fun and impressive behaviors that you will learn. This class enhances your dog's training while having fun in the process. Come see what all the excitement is about! Prerequisites: Intermediate or for dogs that already know how to heel.
Scent Work/Nose Work: Your dog will learn to detect odors with their most powerful sense, their nose! A dog's sense of smell is up to 1,000,000 times more accurate than humans. Scent work is a great way to help your dog hone in on their skills as your dog learns how to detect distinct smells and alert you when they have found them. Scent work provides mental stimulation that tires dogs out, increases their quality of life and can reduce behavioral problems related to anxiety and boredom. The best part is any dog can do it. Your dog doesn't need to be a certain age, breed, or sex. All dogs benefit from scent work because it builds their confidence making them happier and healthier.
Tricks: 4 week class where your dog will learn different tricks that will surely impress your family and friends, while giving your dog a fun job!
Canine Good Citizen Preparation and Test: The Canine Good Citizen (CGC) Test was designed by the American Kennel Club (AKC) and consists of 10 exercises. These exercises focus on teaching the basics of good manners and obedience, instilling the values of responsible ownership, and strengthening the bond between you and your dog at home and out in the community. Any breed of dog or mix can take the test there are no restrictions. As a CGC evaluator, I prepare you for each exercise and then administer the test. The CGC is wonderful for home insurance purposes, renting and it is the first step to becoming a therapy dog. Click on the link underlined under "10 exercises" to be directed to the AKC website with the exercises listed.